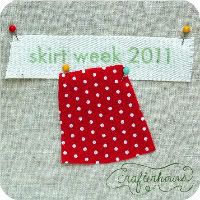 I didn't think I'd be entering Skirt Week this year since I SOOOO didn't need another skirt. But this one was on my "MUST make" list!
This skirt was the first tutorial I bookmarked when I learned how to use Google Reader. It's an Anthropologie knock off that originally cost $160!!
My version is a black/gray chambray fabric that cost me about $10! I still need to add decorative buttons, but I'll get around to that later.
The flounce turned out to be really easy and makes a big impression! I think I say this about every new thing I make, but I think this is now my favorite thing I've sewed! I even got the ultimate compliment - Haven asked me to make one for her!!
Want to make your own? Check out
this
tutorial. It's great!